It's no secret that Santa Fe boasts some of the best hiking opportunities in the Southwest! If you're looking for an adventure that offers a little something for everyone, then head over to Winsor Trail in Santa Fe! Known as one of the jewels of the National Park system, Winsor Trail is a challenging yet rewarding journey that you won't soon forget.
Winsor Trail in Santa Fe is only one of the best hikes near Santa Fe! Request your free copy of our Chimayo Vacation Guide for more hiking trails, outdoor activities, and more.
3 of the Best Things to Do on the Winsor Trail in Santa Fe
Starting at Ski Santa Fe, the 13-mile trail winds its way through stunning pine forests, alpine meadows, and along meandering streams. It's a relaxing and scenic trek through nature that everyone needs to experience at least once! Here are just some of the most popular things to do on the trail.
Hiking
The Winsor Trail is a very sought after destination for hikers. The adventure begins at the Ski Santa Fe parking lot! From here, you'll descend towards a forest road where the trail begins to become more challenging. Although the rugged terrain may make you want to stop and take a break a few times, we promise that reaching the end is worth it! After exploring the forests and crossing the streams, your journey will end Tesuque Village Market. Reward yourself with a quick lunch and a shuttle back to your car!
Mountain Biking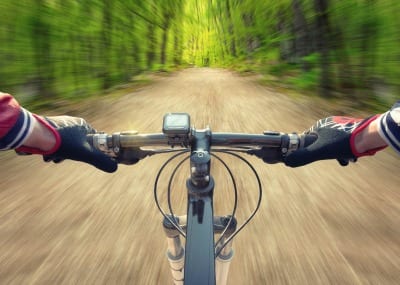 Winsor Trail is considered a "bucket-list" ride for many avid bikers. Energetic riders love the uphill climbs and exhilarating slopes that make for unparalleled mountain biking. The limited technical difficulty of the trail also makes it perfect for beginners! Helmets and gloves are mandatory for this ride.
Snowshoeing
The trail isn't limited to just summer activities. In fact, you'll find some of the best snowshoeing opportunities in the state on Winsor Trail! Experience a winter wonderland as you wander through the snow-laden forests and beside the icy creeks. This is a great option for those who aren't exactly down-hill skiers. Plus, it's an easy and peaceful way to immerse in the beauty of Santa Fe!
More Trails to Explore in Santa Fe
There are many different kinds of trails for any experience level in Santa Fe! Here are more of our visitors' favorites!
After the Hike, Rest Your Feet at Casa Escondida
Located just minutes from Santa Fe, NM, our secluded and charming bed and breakfast is the ideal getaway for those seeking rejuvenation and comfort. Our guestrooms are adorned with traditional New Mexican antiques and provide guests with intimate space and luxury. You will also enjoy a delicious daily breakfast, exclusive vacation packages and specials, and convenience to all the best local attractions.
Book your next getaway to Casa Escondida today!
Don't forget to download our free Vacation Guide to help you start planning your ideal vacation.