Chimayo is one of the Southwest's most historic villages, meaning there are many fascinating ways to explore the past during your visit. Of all the historic relics in Chimayo, one of the most popular by far is the El Santuario de Chimayo. Built in the early 1800's, this fascinating church is recognized as a place of prayer and the final destination of many holy pilgrimages. If you'll be staying with us at Casa Escondida soon, here's why you won't want to leave the El Santuario de Chimayo off your itinerary!
In addition to the El Santuario de Chimayo, there are many fun and exciting things to see in our Southwestern village. Download your free copy of our Vacation Guide right now and instantly receive a full list of recommendations for local attractions, dining, shopping, and more.
History of the El Santuario de Chimayo
There are many stories that revolve around the creation of the El Santuario de Chimayo. However, the most retold of these stories is that of the Wooden Crucifix. According to legend, a group of men was engaging in conversation during the night of Good Friday in 1810. They saw a mysterious light shining in the distance, and after an investigation, discovered a half-buried wooden crucifix. They alerted the nearest church and the priest had the crucifix carried back with him. However, before dawn struck the next morning, the crucifix disappeared and was found right where it was first discovered. Two more attempts to bring the crucifix to the church ended with the same result. People began to assume that the land it stood upon was sacred! A few years later, a Penitente brother built a small shrine around the miracle crucifix. This shrine is now recognized as the El Santuario de Chimayo.
El Santuario de Chimayo Miracles
While the crucifix was miraculous to the people of Chimayo on its own, it was only just the beginning. A small hole was discovered near the new church that, according to Indian rumors, once contained a pool of mud that possessed healing powers. The Penitente that built the El Santuario de Chimayo even claimed that he was miraculously healed from illness by the dirt that now stood there.
It wasn't long before people from all over the continent began traveling to the El Santuario de Chimayo just to experience the healing properties of the dirt for themselves. The soil became known as Chimayo Holy Dirt, and ultimately became the focus for one of the largest pilgrimages in North American history. While it is still unknown whether this dirt actually does contain healing properties, certain carbonates have been found that are proven to relieve those with heartburn.
Santuario de Chimayo Pilgrimage
The most famous of all El Santuario de Chimayo pilgrimages is what is known as the Holy Pilgrimage. This beloved tradition takes place each year on Good Friday and tens of thousands of pilgrims participate. Some of these travelers walk for hundreds of miles! Pilgrims may even choose to walk barefoot or carry crosses to the El Santuario, which are then left on the grounds as a sign of respect.
People join the pilgrimage for a variety of different reasons. While some seek the healing powers of the holy dirt, others may choose to give thanks for answered prayers or ask God for divine intercession and enlightenment. Once the pilgrims each the Santuario de Chimayo, they enter a small, single-windowed room that is believed to be the original site of the miracle crucifix. There, they take a handful of holy dirt from the small hole that has stood there for nearly two centuries. They can rub it on their bodies, sprinkle it in their food, or even brew it with their tea. Then they are free to pray and celebrate on the church grounds.
Visit the El Santuario de Chimayo
Anyone is welcome to visit the Santuario de Chimayo! Whether you are visiting to pray, participate in mass, or just take a few pictures, you will be invited with open arms.
Santuario Hours:
October to April – 9 a.m. to 5 p.m.
May to September – 9 a.m. to 6 p.m.
Mass Schedule:
Monday through Saturday – Daily at 11 a.m.
Sunday – 10:30 a.m. and Noon
Experience the Wonders of Chimayo During Your Stay at Casa Escondida
Our cozy bed and breakfast in Chimayo, NM is perfect for those seeking more than the generic hotel exp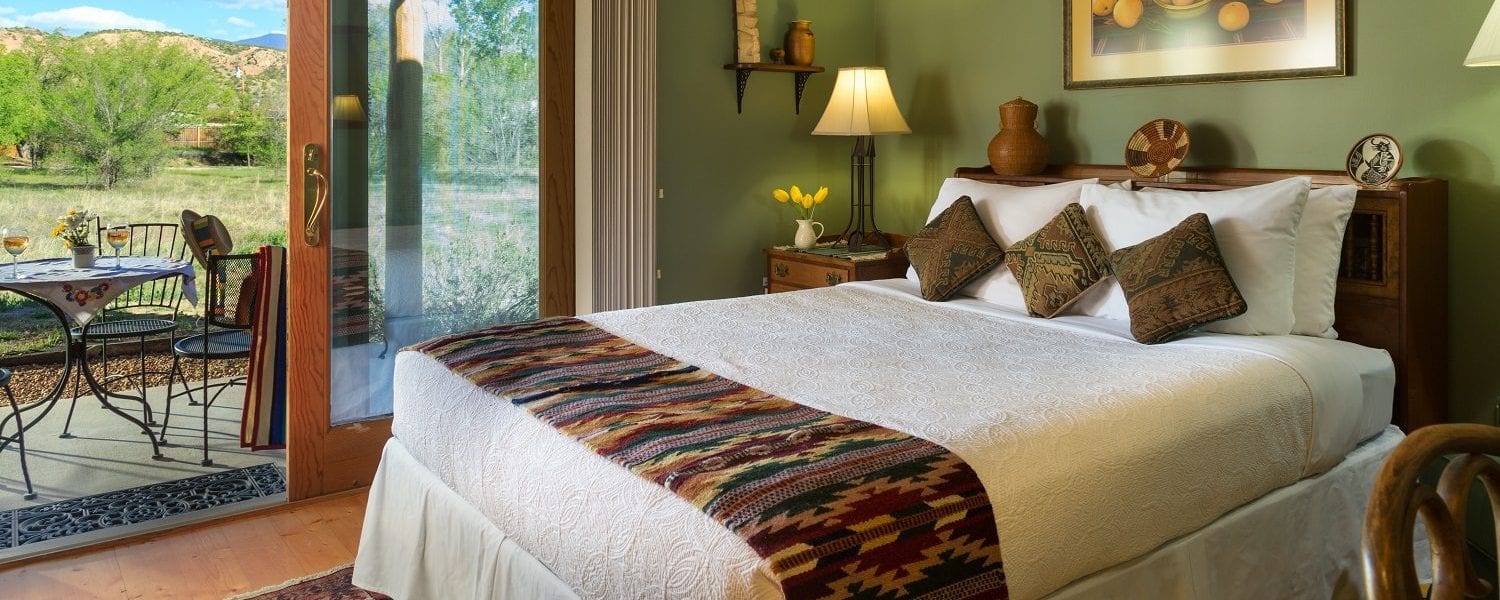 erience. Located just 35 minutes from Santa Fe, Casa Escondida provides the best of New Mexico's countryside while never being far from all there is to experience. Our charming guest rooms accommodate guests for short term and long term stays and provides many of today's modern comforts. The delicious daily breakfast is a favorite for many guests and features various American and New Mexican selections.
Book your next getaway with us today or learn how you can enhance your stay with our tempting packages!
Photo Credit: tang90246/Getty Images