Thousands of years before we walked this Earth, Southwestern Native Americans began creating the rich culture and traditions that we can still experience today. Santa Fe is a city steeped in this history. The locals are proud of their age-old traditions and values that their ancestors once held so dear. If you'd like to take a journey back in time and experience the colorful history and culture of New Mexico's capital city, then a visit to the Museum Hill in Santa Fe is in order. A trip to this attraction is a great way to see how the art and culture of the Southwest Indians shaped city we know and love. Read on to learn more about Museum Hill in Santa Fe and the best things to see during your visit!
Museum Hill in Santa Fe is just one of the many places to visit during your stay with us! Request your free copy of our Chimayo Vacation Guide to find all of the best local museums, attractions, activities, and more.
4 Places You Must See at Museum Hill in Santa Fe
As soon as you arrive at Museum Hill in Santa Fe, an incredible journey into the past awaits you! Here are the museums and attractions you absolutely must see during your visit to the area.
Museum of Indian Arts and Culture
This Santa Fe museum fosters an appreciation for the knowledge of native arts, history, languages, and way of life. The state-of-the-art exhibits are both exciting and educational while driving a desire to learn even more from its visitors. As you explore the Museum of Indian Arts and Culture, you will find mesmerizing pieces of New Mexican archaeology, photography, pottery, and more.
Museum of International Folk Art
As one of the state's most popular museums, the Museum of International Folk Art is a must for any visitor. Not to mention it holds the world's largest collection of folk art! More than 150,000 artifacts call the museum home and over 150 nations are represented here. It is truly an extraordinary place to visit and houses a little something for everyone to enjoy.
Wheelright Museum of the American Indian
The Wheelwright Museum of the American Indian is the oldest non-profit and independent museum in New Mexico. Their exhibitions feature a wide variety of interesting items including pictorial textiles, Southwestern jewelry, and native art. They originate every exhibit to bring you new research, fresh perspectives, and lively visual expression.
Santa Fe Botanical Garden
This unique attraction celebrates the rich horticultural heritage and biodiversity of the Southwest region. The landscape was designed by architect W. Gary Smith, meaning you'll see plenty of stunning natural and manmade gardens. The Santa Fe Botanical Garden is also well-known for their fun events and educational programs, so there is always something new to experience.
More Things to Do at Museum Hill in Santa Fe
Museum Hill Cafe in Santa Fe
Did all of that exploring work up an appetite? Stop by the Museum Hill Cafe for a delicious meal and fabulous mountain views. The cafe is open from 9 a.m. to 4 p.m. and serves up a variety of fresh salads, delectable sandwiches, handcrafted desserts, and beer and wine.
Museum Hill in Santa Fe Events
There are many opportunities to get involved and learn more history at Museum Hill. From fabulous galas, educational lectures, or hands-on workshops, you're sure to find an event that is perfect for you. Take a look at the events calendar to find your favorite upcoming celebrations.
Immerse in the Rich History of Santa Fe During Your Stay With Casa Escondida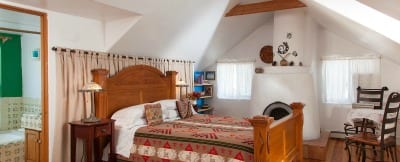 Unlike generic Santa Fe and Chimayo hotels, we incorporate the New Mexican culture and traditions into your accommodation experience. Our beautiful rooms are adorned with Southwest charm while still maintaining the modern amenities that you desire. We even serve a daily breakfast sprinkled with authentic New Mexican tastes and flavors. Our bed & breakfast is located in the historic town of Chimayo, one of the state's cultural icons. You're invited to escape to our countryside paradise!
Book your dream getaway today or download our Free Vacation Guide for all the best local activities and attractions!