Santa Fe is a city steeped in rich arts culture. From art galleries to theaters, you'll find plenty of ways to immerse yourself in the arts and appreciate new forms of entertainment. One particular local attraction that has been an icon in the performing arts world is the Santa Fe Opera House. Opera newcomers and lovers alike are drawn to this magnificent structure to take in the beauty of northern New Mexico and breathtaking performances. Attending a show at the Santa Fe Opera House is a must-do on your New Mexico getaway. Find even more entertainment venues and things to do during your getaway when you request our complimentary Chimayo, NM, Vacation Guide! It's the perfect tool for planning the ultimate vacation with ease.
Plan Your Visit to the Santa Fe Opera House
History of the Santa Fe Opera House
New Mexico's premier opera house sits on 76 acres that have served many purposes throughout history. Some of these include a pinto bean plantation, mink farm, and a pig farm. When the Santa Fe Opera House founder, John O. Crosby, first visited it was just a mere guest ranch that warmly welcomed musical luminaries.
Crosby took over the land in 1956 thanks to a $200,000 investment from his parents. From then on, the organization put on fabulous shows guided by discipline, strategic planning, and creative values. Although the theatre has significantly grown and sprouted new buildings, it continues to thrive off its long-standing core values.
Mission of the Santa Fe Opera House
The mission of the Santa Fe Opera House is to "advance the operatic form by presenting ensemble performances of the highest quality." With the opera house's unique setting and rarely performed works, they ensure the excellence of the opera's future and foster an understanding and appreciation of opera in the public.
The Opera House Boasts Exterior & Interior Art
The Santa Fe Opera House is a structural art form all its own. The open-air theatre is a wonder to observe. Let your eyes follow the various design elements like the different size tiers, curved rooftops, and more. This theatre also uses wind and rain baffles to protect from the elements. This gives guests the airy, relaxed feeling of being outside without having to worry about Mother Nature's unpredictability.
While the outside of the opera house is something special, what happens inside is even greater. Check the opera's calendar for what amazing traditional and contemporary shows are happening during your trip!
More Santa Fe Art Awaits
New Mexico is unassumingly artsy. Experience other Santa Fe art forms when you visit the Santa Fe Artists Market! This market supports local artists and allows guests to take a piece of New Mexican flair home with them. Canyon Road Santa Fe is another great spot for visitors to support local artists and their work!
Stay at Casa Escondida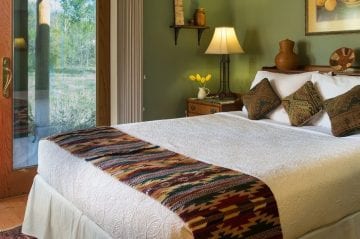 Our cozy bed and breakfast in Chimayo, NM, is perfect for those seeking a unique lodging experience. Casa Escondida offers the best of New Mexico's countryside while never being far from all there is to experience. It's easy to visit the Santa Fe Opera House when you stay with us! Our charming guest rooms accommodate all types of travelers and provide many modern comforts. Enjoy delicious daily breakfast that features various American and New Mexican selections.
Enjoy optimal privacy when you book a stay in our Sage Room. This accommodation is located off of the main house, but offers a private entrance, patio, queen-size bed, and a bathroom complete with a soaking tub for two. This room is even pet friendly! Who says Fido doesn't deserve a getaway, too?
Browse all of our cozy New Mexico accommodations and book your getaway today!