Elopements and Vow Renewals
Land of Enchantment Elopement or Vow Renewal Package
Beautiful Santa Fe weddings can take place on the grounds here at Casa Escondida. We have a package that is perfect for couples planning an enchanting wedding in Santa Fe or wishing to renew their vows. At Casa Escondida, we hope to make your elopement or romantic getaway as perfect as possible with a photographer, beautiful bouquets, and an enchanting location, such as our beautiful Vista Room or garden patio of our Sun Room.
Start Planning Your Chimayo, NM Elopement Today!
To request more information on your Elopement Ceremony at Casa Escondida, simply fill out the form below and we will reach out to you shortly.
Elope to historic and beautiful Chimayo, New Mexico.
Your "just for the two of you" elopement or vow renewal ceremony package consists of: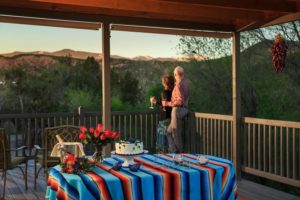 Your choice of location at Casa Escondida B&B (the deck of our Vista Room with beautiful mountain views, the garden patio area of our Sun Room, our warm and inviting living room with a kiva fireplace or the deck of our Casita with pasture views)
Bridal bouquet(s) and Grooms boutonniere(s), arranged with a southwest flair
Sparkling cider toast
Petite wedding cake
Wedding officiate, which is the innkeeper
On-site photography of your ceremony, provided by a staff member
$75 gift certificate for your wedding dinner at the renown Rancho de Chimayo Restaurant
Two witnesses for your ceremony
Keepsake wedding photos, which are unedited and provided on a memory card
Two hand-crafted Casa Escondida B&B coffee mugs as a wedding memento.
Package Price: $650
One-night stay is required for the wedding couple and is not included in the elopement package price. Room rate will depend on your room selection. Elopement ceremony is planned as a 1-hour event. Tax is additional. If you prefer a local, professional photographer, we are happy to make a referral. Local professional photography services are not included in the package price. Our knowledgeable staff is delighted to assist you in planning any of your honeymoon activities. If you plan on having additional guests for your ceremony, there is an additional fee of $20 per extra guest (including any children). There is a limit of 10 additional guests. If any of the extra guests are children, there must be an adult present who is directly responsible for the supervision of children.
Note: If the wedding couple is not able to book the required one-night stay, the package cost is $700.
Marriage license requirements:
Both parties must be present to apply for the marriage license.
Application is made at the Rio Arriba County Courthouse (clerk's office).
The marriage license fee is $25. Payment must be via cash or check (no credit cards) and is not included in the package price.
Both parties must have 2 of any of the 4 following pieces of ID:
Original social security card
Original birth certificate
Valid driver's license
Valid passport
Note – one of the two forms of ID must be a photo ID.
Marriage license will be issued while you wait, at the time of application.
Marriage license is valid for 60 days after it is issued.