It can be difficult to spend quality time with your family amidst daily responsibilities. That's why it's so important to plan at least a few fun-filled family getaways each year. When you venture away from your home base, you also leave some of the stresses of everyday life behind. This leaves more mental space free to spend with your family! Consider New Mexico for your next family vacation. The Santa Fe area is filled with unique and exciting activities for you all to enjoy and make memories you'll always cherish. A New Mexico family vacation is fun for the whole family. Claim your complimentary Vacation Guide for more ideas about how to spend your New Mexico getaway!
Five New Mexico Family Vacation Ideas You'll Love
1. Meow Wolf
This unique attraction is an immersive art installment that has recently taken the internet by storm! Meow Wolf was created by a group of more than 100 artists of several disciplines including painting, audio engineering, and architecture. Their goal was to create a fully immersive experience with a variety of mediums including narrative storytelling, audio polyphony, and interactivity. You could spend an entire day exploring the array of imaginative exhibits and becoming inspired by the blend of art.
2. Santa Fe Children's Museum
The Santa Fe Children's Museum is a popular attraction that keeps both kids and adults alike entertained from the moment they walk through the door. The museum offers more than 35 interactive exhibits like giant bubbles, magnetic building tables, and a 1.5-acre educational garden. There are also weekly children's programs that give families with small children the opportunity to enjoy fun and creative activities together.
3. Genoveva Chavez Community Center
This community recreation center has a little something for everyone underneath one roof. Year-round, visitors will be able to take part in many indoor and outdoor activities including ice skating, swimming, and fitness classes. It's a great option for a rainy day and for families who like to stay active! Be sure to fill up and recharge at our favorite area restaurant, Rancho de Chimayo! The kids will love the classics like nachos and cheese quesadillas, while the adults can enjoy craft cocktails and unique flavor pairings.
4. Santa Fe Farmers Market
Strolling through the Santa Fe Farmers Market is a great way to find locally grown products and crafts. The market's wide variety of vendors and dedication to supporting New Mexico's agriculture has made it one of the nation's best farmers markets. Bring the kids along to pick out a special treat or put together a picnic to enjoy later that day!
5. El Rancho de las Golondrinas
Meaning "Ranch of the Swallows" in Spanish, this immersive history museum transports visitors back in time to the early 1700s. During this period, the ranch was a major stopping point along the Royal Road from Mexico City to Santa Fe.
During your visit, you'll be able to take self-guided tours of the 200-acre farm, enjoy a traditional bread making class, or even explore the setting that inspired the popular American Girl Doll, Josefina! El Rancho de las Golondrinas also hosts several annual events. From the  Renaissance Faire to the Children's Party, there's always something exciting happening at this historic ranch.
Plan the Ultimate Family Escape With Casa Escondida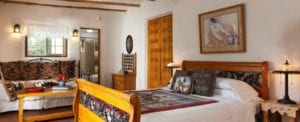 An incredible New Mexico family vacation begins with an incredible place to stay! That's why we invite you to stay with us at Casa Escondida, a beautiful and secluded bed and breakfast in the historic village of Chimayo, NM. Casa Escondida provides the best of New Mexico's countryside while never being far from all there is to experience. Our location is perfect for a weekend getaway with the whole family from our surrounding areas.
Our charming guest rooms accommodate guests for short and long-term stays as well as provides many of today's modern comforts. For family vacations, the Heart of the House Room and Sun Room are adjoined to provide extra space.
The delicious daily breakfast is a favorite for many guests and features various American and New Mexican selections. This way, you can avoid traveling with hungry kids on the way to your first destination. It's everything you need and more for a New Mexico family vacation you'll never forget. Book your next getaway with us today or learn how you can enhance your stay with our exclusive packages!