While Santa Fe may be home to some of the best dining in the state, you'll still find plenty of must-visit dining spots outside of the city and throughout Northern New Mexico. One such place is the Rancho de Chimayo, a family-owned Southwest restaurant that has been serving up delicious and authentic fare for over 50 years. Read on to learn more about one of our favorite local restaurants or use our complimentary Vacation Guide to find even more dining hot spots.
Discover The Best Local Eats In Our Free Vacation Guide
The Story of Rancho de Chimayo
In the early 1960's, a Connecticut native by the name of Florence Poulin made her way to New Mexico. Shortly after, she married Arturo Jaramillo, a descendant of one of the first Chimayo colonists. They dreamed of restoring one of his family's ancestral homes and opening a restaurant. Thus, in 1965, the Rancho de Chimayo was born! Using tried and true family recipes, the restaurant quickly became legendary for its original and delicious menu selections. Florence,  now commonly known as Mrs. J., received numerous awards for her commitment to great food and warm hospitality, including 1987's Restaurateur of the Year. More recently, Rancho de Chimayo was honored with the 2016 James Beard Award in the "America's Classics" category!
Rancho de Chimayo is also credited with playing an integral role in bringing authentic New Mexican foods into the international spotlight. Knowing that, you can feast in the very restaurant that started the trend for all of your favorite Southwestern foods.
The Rancho de Chimayo Menu
From the moment you walk through the doors of Rancho de Chimayo, you'll be welcomed to dine as a member of the family. You'll also find a menu filled with tasty and unique selections that you'll hardly find to be better anywhere else.
Some of their signature dishes, including spicy guacamole, hand-rolled tamales, blue corn enchiladas, and carne advoada are world-renowned and must-trys. Of course, you'll also want to taste their "Stuffed Sopaipillas," a Southwestern dish that Rancho de Chimayo is credited with creating!
After indulging in a delicious meal, you'll need a drink to wash it all down. Their signature cocktail, a superb blend of tequila, apple cider, fresh apples, and Crème de Cassis, is a refreshing prickly-pear margarita that perfectly complements your meal and is sure to delight your palate. For dessert, another Rancho de Chimayo staple is a fluffy sopaipilla dipped in fresh local honey. It's the perfect finale to a truly memorable meal!
If you're still not sure which selections you'll want to try for yourself, here are some popular choices that we're sure you'll love just as much as we do!
Sopaipilla Relleno: This original dish can't be found anywhere else! You'll enjoy a sopaipilla stuffed with shredded beef or chicken, beans, Spanish rice, and your choice of red or green chile.
Platon Especial: A deluxe combination of cheese enchiladas, a pork tamale, shredded beef tacos, and chile relleno.
Plato Vegetariano: This vegetarian dish includes a refried bean burrito, cheese enchilada, and a zucchini and green chile tamale.
Bring Rancho de Chimayo Recipes Home With You
Want to take the flavorful menu home with you? Now you can! The Rancho de Chimayo cookbook was created as a part of the restaurant's 50th-anniversary celebration. Every recipe is revised, updated, and includes charming archival images in stunning full-color. This book makes an incredible gift for your friends, family, and even yourself!
Enjoy the Flavors of New Mexico During Your Stay at Casa Escondida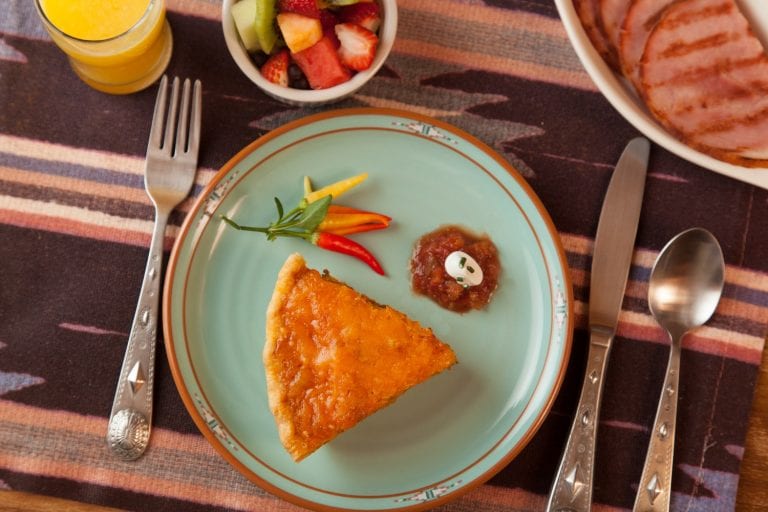 Conveniently located in Chimayo and just a few minutes from the Rancho de Chimayo, our beautiful and inviting bed and breakfast inn reflects what makes the Southwest so unique. Each of our nine guestrooms boasts a variety of homey amenities, antique Southwest decor, and spacious living areas that allow you to relax and unwind.
During your stay with us, you will also enjoy a bountiful Southwestern-style breakfast each morning. Join us in our sunny breakfast room for delicious selections such as spicy pork sausage, green chile souffle, fresh fruit, coffee, and more.
Book your next New Mexico getaway with us in your favorite room today! Also, don't forget to explore our wide variety of vacation packages and specials to find out how you can enjoy more for less.