One of the best things about our New Mexico Bed and Breakfast is its centralized location, allowing our guests to enjoy the best of Northern New Mexico.  This includes top cities like Santa Fe and Taos and top attractions like Bandelier National Monument. All of these places and more are accessible in a variety of easy day trips from our Bed and Breakfast, which is located in the charming Northern New Mexico town of Chimayó.
As great as these places are, our Bed and Breakfast itself is a worthy destination, and it serves as the perfect home base for all your adventures in Northern New Mexico. Our nine guest rooms are situated on six tranquil acres, just outside the town of Chimayó. Here, you'll find the world-famous Santuario de Chimayó, a significant sight of pilgrimage each year, as well as the renowned Rancho de Chimayó restaurant and a number of incredible local weavers and artisans.
Our Northern New Mexico Bed and Breakfast is just 40 minutes north of Santa Fe, a little over an hour south of Taos, and about 40 minutes southeast of Abiquiu, once home to famous artist Georgia O'Keeffe. As you can see, it's easy to reach some of the most sought-after destinations in Northern New Mexico from here.  If you're ready to get out and explore, it's time to book your room at our Northern New Mexico Bed and Breakfast today!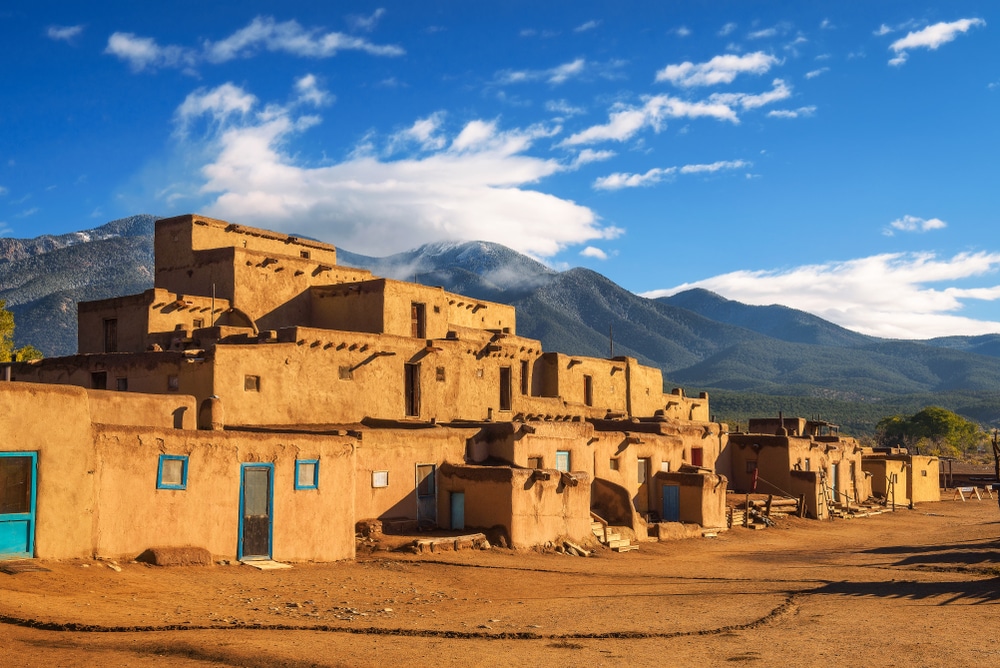 The Best Places to See in Northern New Mexico
From the peaks of the Sangre de Cristo and Jemez mountain ranges to depths of the Rio Grande Gorge, the landscapes of Northern New Mexico are truly diverse. This part of the state is also home to some of the top tourist attractions, most notably the cities of Santa Fe and Taos. There's a rich fabric of artistry and culture running through this part of the state, many of whom have been inspired for generations by the breathtaking landscapes found here.
There are eight native Pueblos that dot this region, with the most famous being the Taos Pueblo. Although the Taos Pueblo still remains closed to the public due to the ongoing Coronavirus pandemic, we hope to see it open again soon. Taos is just one of the many incredible places worth visiting in Northern New Mexico. We've highlighted some of the top destinations below.
Even with the temporary closure of the Taos Pueblo, the Taos area is still magnificent and worth visiting. Outdoor enthusiasts will want to visit the Taos Ski Valley no matter the time of year, as it's home to some truly incredible skiing in the winter, and hiking and biking the rest of the year. It's also a town filled with incredible artists, plenty of galleries and museums, and the historic San Francisco de Asis church.
Between the cities of Taos and Santa Fe is the High Road to Taos Scenic Byway – which is one of the most breathtakingly scenic drives in the state. The byway passes right through Chimayó.
Santa Fe is one of the most popular destinations in Northern New Mexico.  This cultural mecca is home to some incredible museums and art galleries, undeniably delicious restaurants, and a number of markets and festivals that take place throughout the year. It's also a popular destination for health and wellness retreats, with a number of spas and hot springs located nearby. When you want to get into the outdoors, you don't have to go far, either. There are plenty of hiking and biking trails in and around the city.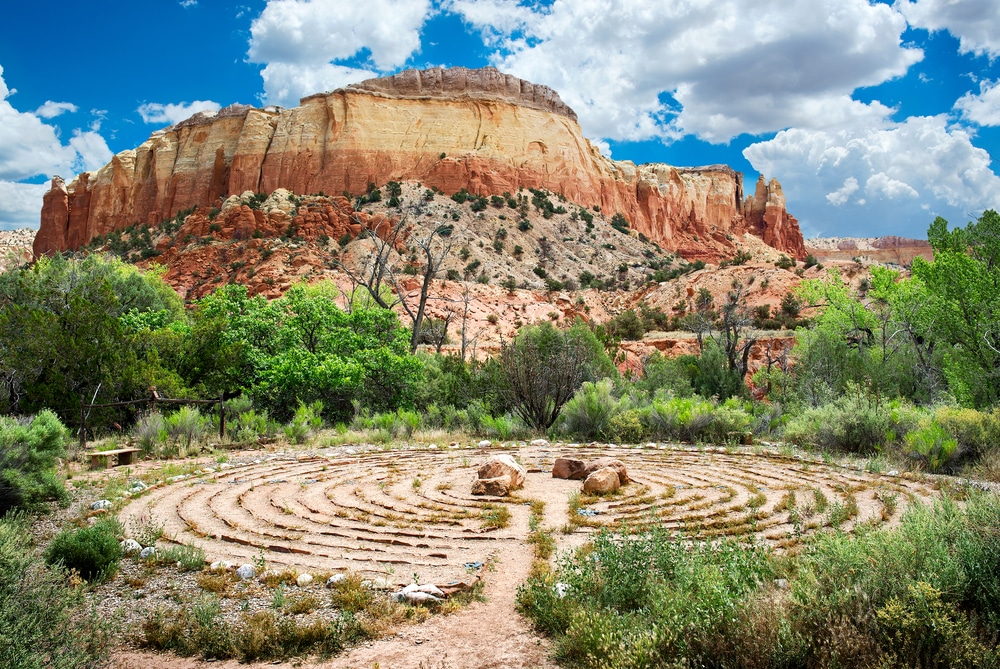 Abiquiu is perhaps most famous for resident artist Georgia O'Keeffe, who, inspired by the surrounding landscapes, made her home here for decades. It's easy to see why she was so inspired, too. Abiquiu is one of the most beautiful destinations in Northern New Mexico. Here, you'll find plenty of great outdoor recreation to enjoy, but the top attractions is Ghost Ranch and the Georgia O'Keeffe Home and Studio.
Los Alamos is a beautiful mountain town replete with the breathtaking scenery you expect from Northern New Mexico. It's also home to one of the top National Laboratories in the national for scientific and technological advancement.  You can learn more about the Los Alamos National Laboratory at the Bradbury Science Museum. Los Alamos is also adjacent to adjacent to Bandelier National Monument, Jemez National Recreation Area, and the Valles Caldera National Preserve, opening up a vast range of outdoor pursuits.
Apart from these amazing destinations, other top attractions in Northern New Mexico include Angel Fire, a popular ski resort and summer playground for outdoor enthusiasts, the popular Ojo Caliente Mineral Hot Springs, the Nambé and San Ildefonso Pueblos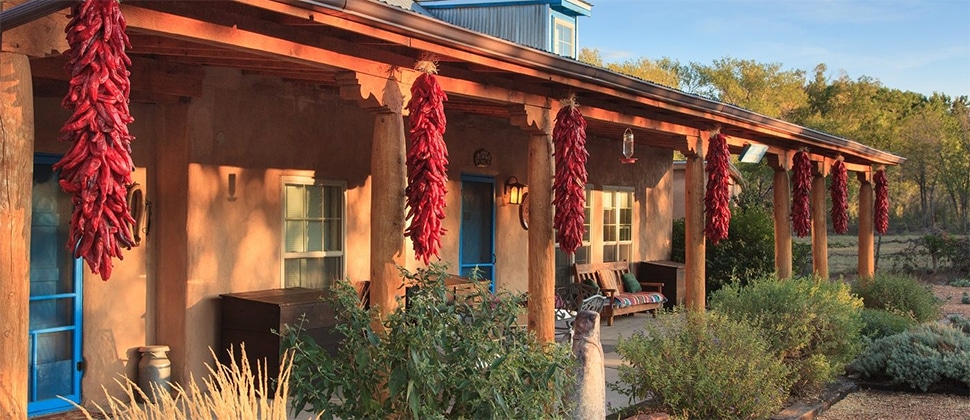 The Best Bed and Breakfast in New Mexico
While visiting all of these incredible destinations in Northern New Mexico, there's only one place worthy of calling your home away from home, and that is our New Mexico Bed and Breakfast.  We're well-located between Santa Fe and Taos, which puts all the best of Northern Mexico easily within your grasp.
Surrounded by glorious New Mexico Scenery, it's easy to see why our New Mexico Bed and Breakfast ranks as one of the best places to stay in northern New Mexico. Each of our guest rooms is appointed with traditional New Mexican decor and provides all the comforts you crave from home with none of the stress that comes with it. We'll treat you to a delicious multi-course breakfast each morning of your stay, which serves as the perfect fuel for your adventures ahead.
Our hospitality is second to none, and we leave no detail untended. There's nothing quite like a stay at our northern New Mexico Bed and Breakfast. Book your room today.