You'd be hard-pressed to find a more beautiful, fun, and equally relaxing getaway destination this winter than northern New Mexico. We're just wrapping up an incredible fall and are starting to gear up for an exciting winter ahead, which means sunny days skiing down the runs at Taos Ski Valley and other New Mexico Ski Resorts.
If you're looking for the best New Mexico ski resorts this winter, you won't find a better home away from home than our Chimayó Bed and Breakfast in Northern New Mexico. From our New Mexico Bed and Breakfast, you're an easy drive to the top New Mexico ski resorts, including Taos Ski Valley, Angelfire, Ski Santa Fe, and several others. It's truly a centralized location that offers the best of everything this incredible state has to offer.
It won't take long to realize what an undiscovered gem places like Taos Ski Valley and other New Mexico ski resorts are. Many of the skiable mountains here have elevations of 12,000 feet or higher. With thousands of acres of skiable terrain, it translates to a long and wonderful ski season ahead on dry, powdery snow that is to die for.
You'll be tired and sore when your day of skiing is done – but that's where our New Mexico Bed and Breakfast, located in the charming village of Chimayó, comes in! Our rustic yet luxurious Bed and Breakfast is located in the quiet countryside of northern New Mexico, between Santa Fe and Taos.
With welcoming accommodations and exceptional New Mexico hospitality, it's the perfect home away from home for all your trips to Taos Ski Valley and beyond this winter. Book a room at our Northern New Mexico Bed and Breakfast today!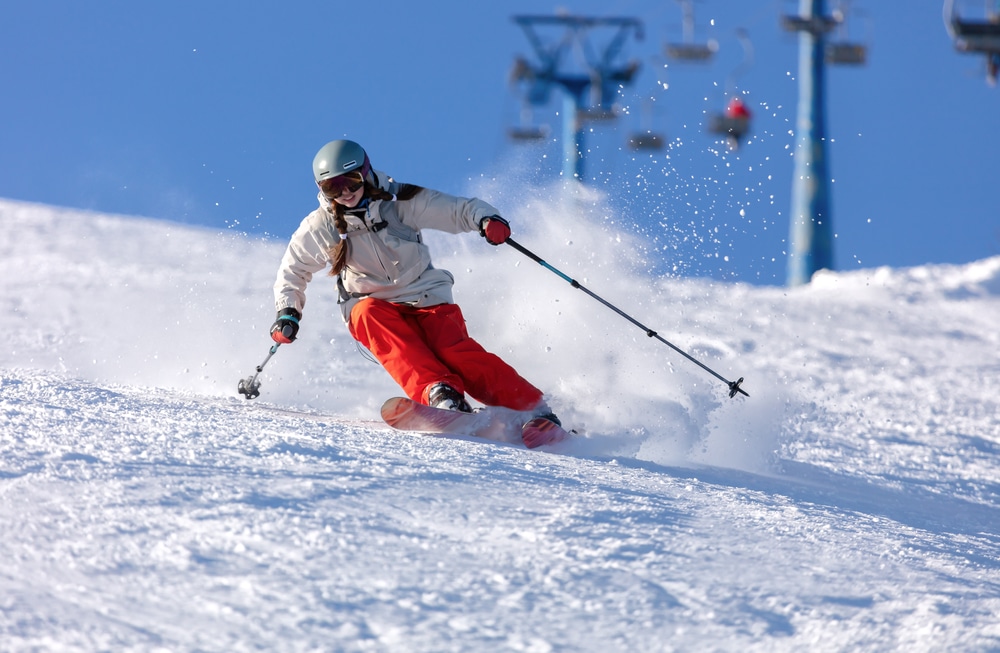 Spend a Day Skiing at Taos Ski Valley
One of the most iconic New Mexico ski resorts is Taos Ski Valley, found just outside the charming, historic town of Taos. Taos Ski Valley is an easy 90-minute drive from our New Mexico Bed and Breakfast through some of the most beautiful landscapes in the state. Taos Ski Valley is the largest of the New Mexico ski resorts and is considered by many to be one of the best. It's particularly great if you're looking for a touch of old-school skiing with enough modern amenities to make it a satisfying day on the slopes.
The 202/2023 ski season at Taos Ski Valley is slated to open on November 24. There are more than 100 skiable runs at Taos Ski Valley, serviced by various high-speed lifts and their signature gondola. With a vertical drop of just over 3,100 feet, you can expect a healthy mix of difficulty levels here, with plenty of runs for everyone from beginners to double-black diamond skiers.
Though Taos Ski Valley is one of the most popular New Mexico Ski Resorts, it won't feel like it when you're out there skiing. Taos Ski Valley is divided into five sections: The Lower Front Side, Upper Front Side, Back Side, Highline Ridge, and the West Basin Ridge. With this many trails to choose from and an uphill capacity of more than 15,000 skiers or snowboarders per hour, you may just feel like you have the mountain to yourself for the day.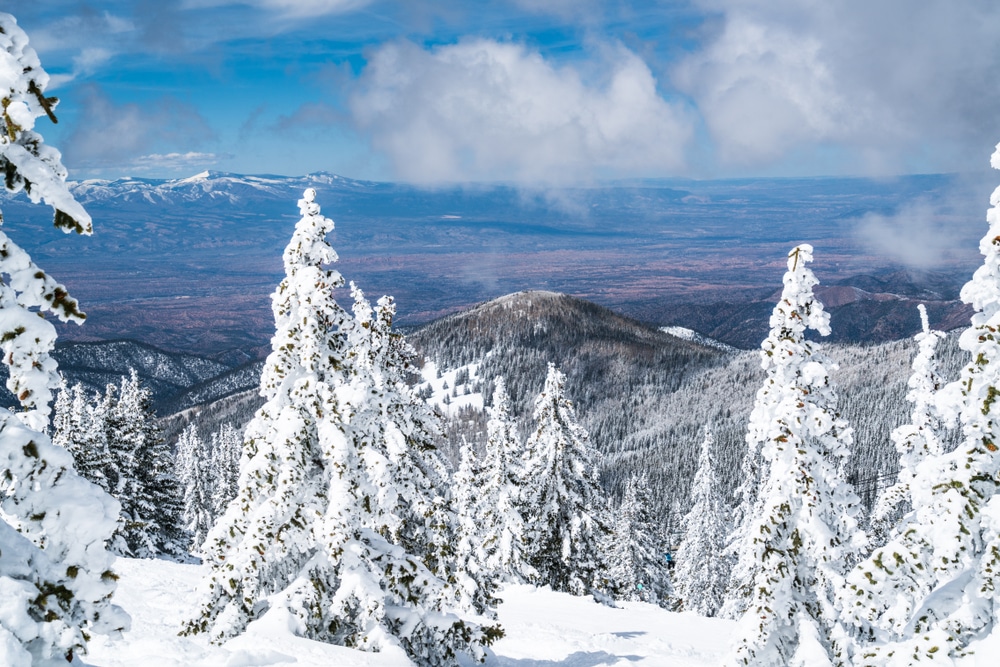 More Great New Mexico Ski Resorts Nearby
As wonderful as Taos Ski Valley is, it's just one of the fabulous New Mexico ski resorts within an easy drive of our New Mexico Bed and Breakfast. There are at least eight New Mexico ski resorts nearby, so you can easily hop around from one ski resort to the next, enjoying an exhilarating ski break in northern New Mexico.
With so many New Mexico ski resorts, you'll find one that feels perfect for you. Below, we've put together a list of five more popular New Mexico ski resorts for you to consider, aside from Taos Ski Valley.
Of course, these five resorts aren't the only great place to ski – there are plenty of choices in New Mexico ski resorts. And while you can certainly stay at some of these places, why would you, when you have our charming Bed and Breakfast in Chimayó to choose from instead? Get started planning your winter getaways to Taos Ski Valley and beyond, and make sure to book a few nights at our #1-rated New Mexico Bed and Breakfast.