What better way to take off the winter chill after a day adventuring in Northern New Mexico than to soak at one of the many amazing New Mexico hot springs near us? Soaking in warm and soothing New Mexico hot springs is one of the top things to do in New Mexico in the winter – and it's easy to see why. Giving yourself a few moments to breathe deeply and melt away the stress is the best gift you can give yourself throughout this holiday season – or maybe just after it as you mark the start of another new year ahead.
Hot springs are a natural part of Northern New Mexico and have been for centuries, thanks to the volcanic aquifers that lie just below the surface. There are five incredible New Mexico hot springs within a short drive of our Bed and Breakfast in Chimayo. It's one of the most unique ways we can help guests at our New Mexico Bed and Breakfast relax and treat themselves to the pampering they deserve.
Moreover, these New Mexico hot springs are part of the rich tapestry of New Mexico's cultural history, offering generations of healing through their rich and powerful mineral waters. Enjoy the best of northern New Mexico with us this winter, and indulge at one of these fantastic New Mexico hot springs while staying in comfort at the #1-rated Chimayó Bed and Breakfast. Book your room today!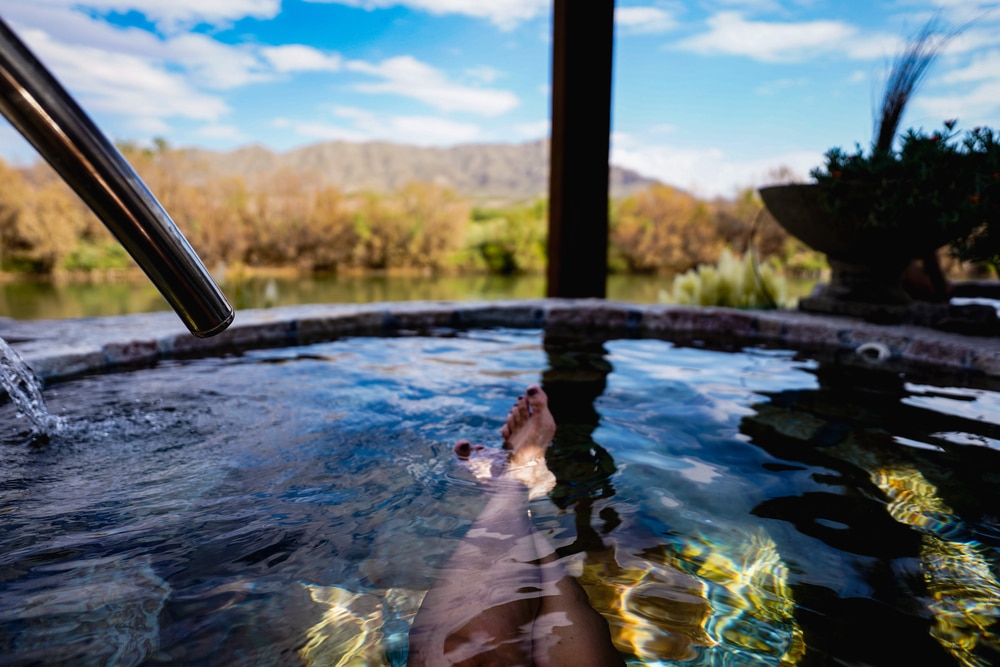 5 New Mexico Hot Springs to Visit in 2022
Thanks to the active geothermal activity in New Mexico, the Land of Enchantment is a great place to enjoy a relaxing soak. Not only are the soothing waters relaxing, but they also have legendary healing properties.
Jemez Springs is one of the most popular places for New Mexico hot springs, and Jemez Springs is just about 90 minutes from our Inn. You'll find several wonderful springs to relax, including some out in the middle of New Mexico's stunning natural surroundings. Some pools are only open seasonally, so be sure to check on their accessibility before you travel.
There are plenty more New Mexico Hot Springs around the state, too, including those offering resort-like experiences that are open year-round. We've included a list of five of the best near our New Mexico Bed and Breakfast.
Ojo Caliente Mineral Springs is one of the top-rated New Mexico hot springs, and you'll see why the moment you step foot into these sacred waters. Ojo Caliente Hot Springs is the only place in the world where you'll find four kinds of mineral-enriched water, including Lithia, iron, soda, and arsenic – waters that have been considered to hold healing properties for generations. Add to the experience and indulge in one of the treatments, followed by a delicious lunch or dinner at their onsite restaurant.
Jemez Hot Springs is home to therapeutic mineral water pools made from ancient seawater, which originates deep beneath the Valles Caldera National Preserve. 
One of the closest New Mexico hot springs to Chimayó is the San Antonio Hot Springs

near Los Alamos. It's also one of the most popular New Mexico Hot springs, thanks to its rugged nature and stunning natural surroundings in the heart of the

Santa Fe National Forest. You'll have to hike into the hot spring to use it, but it's more than worth the short 0.6-mile trek, provided it's open (it's open seasonally, so be sure to look before you travel!). 

Relax, rejuvenate, and renew at Jemez Springs Bath House

! Here, you can find something a little unique among New Mexico hot springs – the chance to enjoy a hot or cold mineral bath – not to mention a wide variety of spa services such as body scrubs, waxing, and other cosmetology services. 

If you want a more traditional spa experience combined with a relaxing soak in New Mexico hot springs, head to Ten Thousand Waves Spa in Santa Fe. It was modeled after traditional

Japanese mountain hot springs. They have nine outdoor hot tubs, the perfect place to soak away your worries and leave them behind. Don't miss a meal at

Izanami Restaurant – it's one of the best in Santa Fe!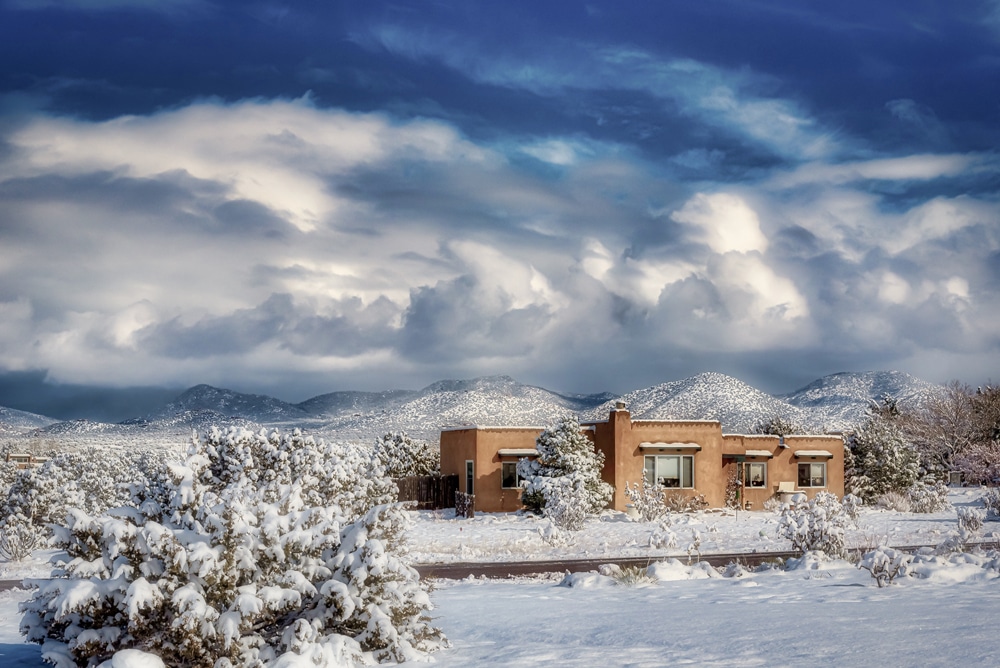 More Things to do in Northern New Mexico This Winter
Whether you want to get away and enjoy a relaxing change of scenery while we take care of you at our bed and breakfast, or you want to get out and explore a bit, there's nothing better than a wintry getaway to Santa Fe. From exploring the town's top museums to skiing, this winter is a fantastic time to visit us at our Bed and Breakfast near Santa Fe! While you're visiting, here are a few of our favorite recommendations for things to do near Santa Fe this winter:
Of course, our favorite thing to do is curl up with a good book or someone you love and enjoy some relaxing downtime at our unforgettable Bed and Breakfast in New Mexico. Book your winter getaway with us today!