If you've never been to Kasha-Katuwe Tent Rocks National Monument (commonly just called Tent Rocks), then this summer might be the perfect opportunity. This national monument, located approximately 40 miles south of Santa Fe and about an hour south of our northern New Mexico Bed and Breakfast, is known for its iconic cone-shaped geological formations.
Tent Rocks is a beautiful part of New Mexico and a great place to enjoy a peaceful retreat into nature. The most popular activity at Tent Rocks National Monument is hiking. It's also an excellent place for birdwatching and naturalists, particularly those interested in the geology of this exciting area.
You'll find the comfortable accommodations and peaceful ambiance of our northern New Mexico Bed and Breakfast the perfect place to relax and unwind. Not only are our guest rooms comfortable, but we'll treat you to a delicious breakfast each morning of your stay. Moreover, we're located between Santa Fe and Taos and offer you unfettered access to some of the best attractions in Northern New Mexico. Book a room at our New Mexico Bed and Breakfast today!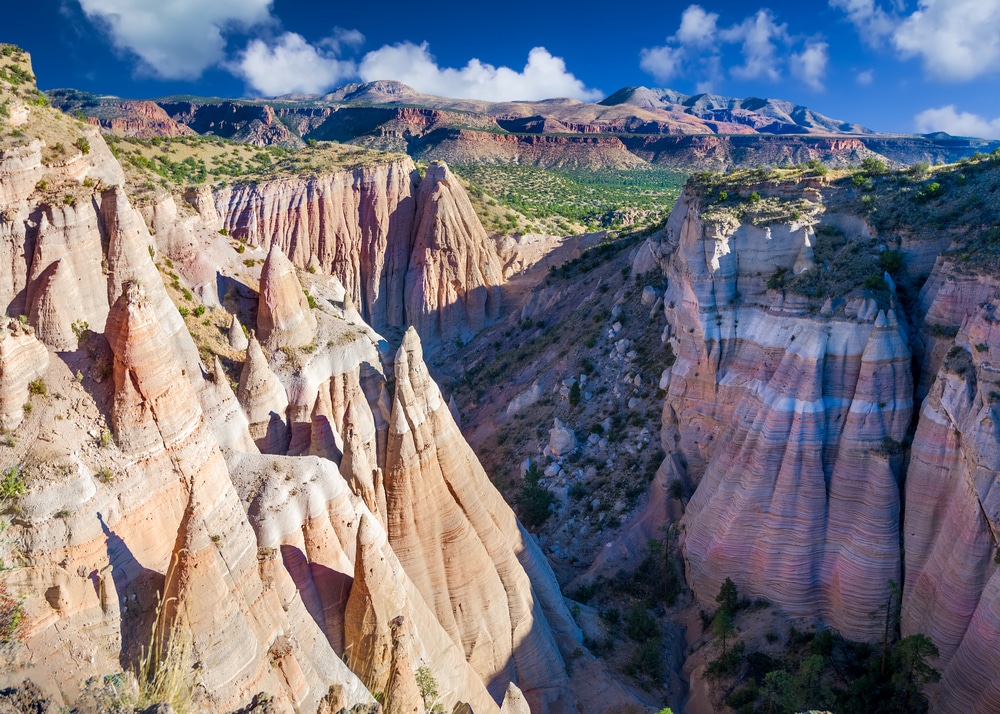 A Guide to Tent Rocks National Monument
Tent Rocks National Monument is a geological wonder, and a visit here is worth every second of the time it takes to get there.
Tent Rocks is located on New Mexico's Pajarito Plateau and is situated at an altitude of 5-7,000 feet above sea level. The iconic tent-shaped formations were formed by the compression of pumice, ash, and tuff deposits from volcanic eruptions around 6-7 million years ago.
There are two main hiking trails at Tent Rocks, both part of the National Recreation Trail, as well as a 3rd wheelchair-accessible loop. The first segment of the trail, commonly referred to as the Cave Loop Trail, is an easy 1.2-mile walk. The second segment of the trail, often referred to as the Slot Canyon Trail, is more difficult. It's 1.5 miles long (one way) and makes the journey into a narrow, "slot" canyon with a steep (630-ft) climb to the top of the Mesa. From the top, you'll enjoy breathtaking views of the Sangre de Cristo, Jemez, Sandia mountains, and the Rio Grande Valley are spectacular.
Tent Rocks National Monument it's also an excellent place for bird and wildlife watching. The birds of Tent Rocks are fun to watch, and birdwatching enthusiasts have been flocking to this area for years. The area is mainly comprised of pinyon-juniper woodlands, which, of course, attracts a specific subset of birds. Still, more than 60 species have been recorded in this relatively small section of land. Some native birds are here year-round, and others migrate through in spring and fall. This variation is part of what keeps return visits to the monument interesting year after year.
A visit to the Tent Rocks National Monument is about so much more than enjoying some hiking and birdwatching, though. It also offers a fascinating glimpse into the unique geology of northern New Mexico and its resulting ecosystem. The geology of Tent Rocks National Monument has created several unique ecosystems, from the depths of the canyons to the top of the Mesa. Accordingly, there are a variety of interesting plants and wildlife in various areas of the monument.
The monument is open daily most days of the year from 8 am – 4 pm. There can be entrance delays when the parking lot gets too full and the area is crowded, especially during the busy summer months. Getting there early during the summer ensures less wait time, which can often be anywhere from 30 – 90 minutes. It's best to visit early in the day to beat the heat and the crowds or to visit during the shoulder seasons of spring and fall.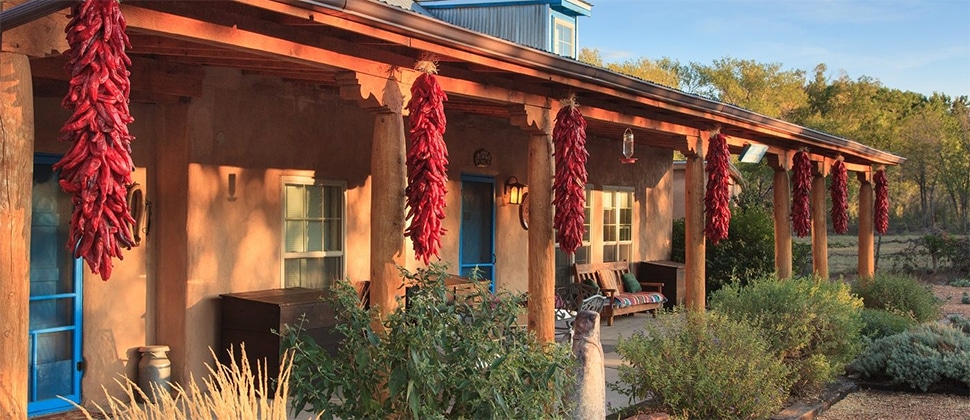 The Best Place to Stay in New Mexico
There's more to see and do in Northern New Mexico than you can do in a short visit. The area between Santa Fe and Taos is a vibrant and diverse area, both in natural beauty and culture. Spending an afternoon at the Tent Rocks National Monument is just one of the many things you can do when visiting our New Mexico Bed and Breakfast.
Casa Escondida Bed and Breakfast is located in the charming town of Chimayó, famous for its Santuario de Chimayó, and close enough to both Santa Fe and Taos so that you can enjoy the best art galleries, museums, restaurants, outdoor attractions, and all the other great things to do in northern New Mexico. However, our Bed and Breakfast is also far enough away to soak up the beautiful scenery that brought you to New Mexico in the first place.
Relax and unwind on our beautiful six-acre property, enjoy the comfort of our guest rooms, and savor a delicious breakfast every morning of your stay. There's nothing quite like a stay at our northern New Mexico Bed and Breakfast. Book your room today.