Outdoor enthusiasts will find heaven on Earth in Northern New Mexico! From the region's top hiking trails to outstanding opportunities for skiing, a new adventure awaits around almost every corner!
Mountain bikers will also find their fix on several of our area's exhilarating biking trails. Not only will you enjoy a heart pumping journey down the mountainsides, but you'll be exposed to some of the most breathtaking sights in the state.
Ready to embark on the biking adventure of a lifetime? Read on to discover just a handful of our area's top New Mexico biking trails or request your FREE copy of our Chimayo Vacation Guide to find even more exciting outdoor activities and local attractions to add to your itinerary.
Get Your Free Guide To Northern New Mexico Right Now!
Our Favorite New Mexico Mountain Biking Trails
1. Chamisa Trail
The Chamisa Trail is frequented by both hikers and bikers for an unforgettable journey through the Santa Fe National Forest.
The naturally well-shaded forest will keep you cool during the warmer months as you traverse through vast meadows, across gurgling streams, and many more awe-inspiring views. It's ideal for beginners and takes approximately 1.5 hours to complete.
2. Atalaya Trail
Atalaya Trail is a very popular hiking and biking trail in Santa Fe. The trip is almost six miles and includes challenging grades that will give you a fantastic workout on your way to the top of the mountain.
At the end of your journey, you'll be rewarded with a fantastic mountain top view of Santa Fe and the surrounding peaks. Since this trail is heavily-trafficked with hikers during the busy season, most local bikers recommend taking this trail midweek or mid-day when it is much less crowded.
3. Dale Ball Trails
With over 23-miles of hiking and New Mexico mountain biking trails, the Dale Ball Trails is a mecca for outdoor exploration.
If you're a beginner, the more northern segments of the Dale Ball Trails will be much more suited to your skill level. As the bike the trails south, you'll notice that they get much more challenging and require a greater amount of both physical and mental activity, making it ideal for experienced bikers.
4. Winsor Trail
Many bikers choose to ride uphill on the Winsor Trail to take in all the sights within the gorgeous pine forest. However, daredevils will find that the downhill ride is one of the most exhilarating rides in the area.
However you decide to tame the trail, it's a journey that you'll surely want to repeat again and again.
5. Pajarito Mountain
Advanced bikers are sure to find endless thrills on Pajarito Mountain! This small ski area located in the Santa Fe National Forest runs their chairlift during the summer months so local bikers can easily access the top of the mountain.
Once you're up there, you can look forward to over 30 trails to choose from on 1,200 vertical feet. You'll feel as if you are flying as you pedal your way down the mountainsides.
You'll also find a jump park that will allow you to put your biking skills to the test!
6. South Boundary Trail
The South Boundary Trail in New Mexico is a popular choice for mountain bikers in Taos. It begins at the El Nogal Picnic Area on US Highway 64 and ends at FR 76 near Angel Fire.
You'll start with a 1.5-mile rocky climb that may require a bit of hiking. The road will quickly descend past this point and lead you through Garcia Park, conifer forests, and aspen groves.
7. Amole Canyon
The 7.2-mile dirt trail of Amole Canyon is another great option for beginners as there are no major obstacles or pitches. Instead, you'll enjoy a leisurely ride near Taos. The pine forests and old logging roads will also give you something to admire during your ride.
In the winter, Amole Canyon transforms into a haven for winter sports including snowshoeing and skiing.
Book Your Next Adventure With Casa Escondida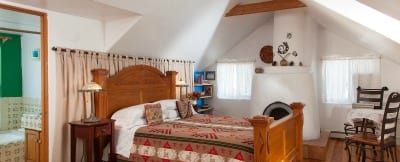 After an epic New Mexico mountain biking excursion, you'll be invited to come back and indulge in some well-deserved relaxation at our charming bed and breakfast in Chimayo, NM.
Meaning "hidden house" in Spanish, Casa Escondida provides a peaceful haven for guests to unwind, relax, and experience everything our beloved area has to offer.
Our Southwest-style guest rooms are filled with handpicked antiques and modern amenities that you need for a comfortable stay. You'll also be spoiled with a delicious hot breakfast served each morning in our sunny breakfast room.
The Kiva Room is ideal for romantic and family escapes in Northern New Mexico. During your stay in this lovely upstairs guest room, you'll enjoy the warmth of a bedside kiva fireplace, a queen-sized bed, two twins beds tucked into a tiny alcove, a small work area, and a private bathroom. It's everything you'll need and more for a memorable getaway that you'll be talking about for years to come.
Check our availability today and book your favorite guest room! We look forward to seeing you soon.