There are many wonderful towns and cities to explore in Northern New Mexico, and two of the most popular are Taos and Santa Fe. While only approximately an hour and a half from each other, these two destinations offer a wide variety of different experiences and attractions just waiting to be discovered by you.
If you'd like to add a trip from Taos to Santa Fe on your itinerary, we know the best ways to get there and things to see along the way. Here is what you need to know about the trip so you can add it to your itinerary immediately, and don't forget to download your FREE copy of our Chimayo Vacation Guide to find even more local activities and attractions you won't want to miss.
Get Your Free Guide To Chimayo Right Now!
How to Get There: High Road vs. Low Road to Taos, NM
High Road to Taos
Also known as the Santa Fe Taos Loop, the High Road to Taos is one of the best and most scenic ways to travel between the two cities.
The route runs along NM 76 and highlights some of New Mexico's most quaint and charming towns. On your way from Taos to Santa Fe, you'll encounter amazing places such as Ruchas, Cordova, and Ojo Sarco. These towns are well known for woodcarving, rugs, pottery, and other artifacts. This is a great way to go if you're interested in seeing traditional Spanish-colonial churches and architecture. The San Francisco de Asis Church is the most photographed of them all and is located just south of Taos.
Plus, if you're up for a little detour, the Blue Mesa Alpaca Farm is a must!
Low Road to Taos
The Low Road to Taos is much more direct than the High Road, but it is also more geared to those on the lookout for some stunning Northern New Mexico scenery. Since there are hardly any places to pull over on this route, we highly recommend filling your gas tank before making the excursion. However, we promise it will be well worth it!
This route follows the Rio Grande River and up into the northern mountains, so be sure you have your cameras ready. You'll see plenty of awe-inspiring sights such as narrowing canyons, high plains, and gorgeous red rocks. The trip will take approximately an hour and a half to complete.
Experience the Enchantment of New Mexico During Your Stay With Casa Escondida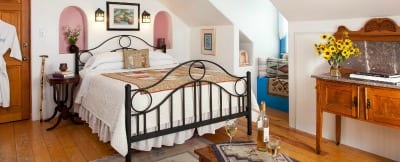 Located in between Santa Fe and Taos, Casa Escondida is a quiet and peaceful Southwestern bed and breakfast in the heart of Chimayo, NM. Our secluded escape is ideal for couples, families, and solo travelers in search of a more unique lodging experience without sacrificing convenience to many local attractions.
Our inn boasts nine thoughtfully-decorated guest rooms that exude the traditional Southwestern charm, some of which are pet-friendly! The Vista Room is one of our most popular accommodations and surrounds its guests with a dreamy and inviting atmosphere. You'll be spoiled with beautiful views of the Sangre de Cristo mountains, a comfortable queen-sized bed (another daybed is available that can be converted into two twins), a private bathroom, and a delicious hot breakfast served fresh each morning.
Ready for the getaway of a lifetime? Book your favorite room with us today and we'll see you in Chimayo soon.