New Mexico is home to a diverse arts culture. For many years, Native Americans in the area used artistic mediums to express their life and culture. Later, these pieces became a key component of understanding Native American life in New Mexico and beyond. Music, in particular, played a pivotal role in Native American life. Music's role in peoples' lives has evolved and changed, but New Mexico still embraces music as a way to connect with locals and travelers alike. Get a taste of New Mexico's music scene at the Abiquiu Chamber Music Festival. This is a great opportunity to bring talented acts to the people of Northern New Mexico in an engaging environment that helps the community thrive. Browse other ways to explore our area's culture with our complimentary Vacation Guide.
Everything You Need to Know About the Abiqui Chamber Music Festival
Where is Abiquiu?
Abiquiu, NM, is a small community that's a 40-minute drive Northwest of Chimayo. This small village hosts many unique things to do like the Ghost Ranch. The ranch's land formations are the result of great geological phenomenons and offer guests many ways to see it all. There are on-site museums, hikes, yoga, and even a Spiritual Retreat Center. This center is just one great example of the village's permeating connection to the land and culture.
Like most of New Mexico, Abiquiu has expansive natural beauty. One of the most telling examples of this is the Rio Chama. This river is a tributary to the Rio Grande. You can have a front-row seat to the best views overlooking this watercourse when you attend the Abiquiu Chamber Music Festival.
What You'll Experience
This year marks the twelveth annual Abiquiu Chamber Music Festival. The festival brings musical acts from around the world to Abiquiu for a celebration of music, culture, and togetherness. Not only is the music great, but the waterfront venue adds natural sounds and ambiance to the mix.
The Chamber Music Festival is a popular annual event and tickets often sell out before the event commences. Another great aspect of this music festival is that the mission is about more than entertainment. The festival also brings the community as well as visitors together to appreciate and experience the music and helps the Abiquiu economy thrive. Grab your tickets for this summertime music festival before they're gone!
Stay at Casa Escondida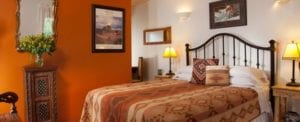 Casa Escondida Bed and Breakfast is the perfect place to stay when you attend the Abiquiu Chamber Music Festival. The festival is 40 minutes from our inn, so you can spend the whole day exploring Ghost Ranch, Abiquiu Lake, and more while you're there! We know this music festival will leave you wanting more. Nearby Santa Fe is home to the state's premier opera house that hosts year-round shows. There are also a variety of outdoor and local musical performances in our area.
Experience the best of Northern New Mexico lodging when you stay at Casa Escondida. We have rooms for every type of traveler. Whether you're coming to Chimayo for an elopement, romantic getaway or a weekend retreat away from the city with the family, we have something that suits your needs.
Recharge your romance on your next getaway and stay in our Dos Garden Room. This room has amazing views of nature from the covered front porch as well as a queen-size bed and private bathroom with a walk-in shower. Add on our romance package to your reservation to complete your intimate getaway.
Browse all of our guest rooms and book your stay today!