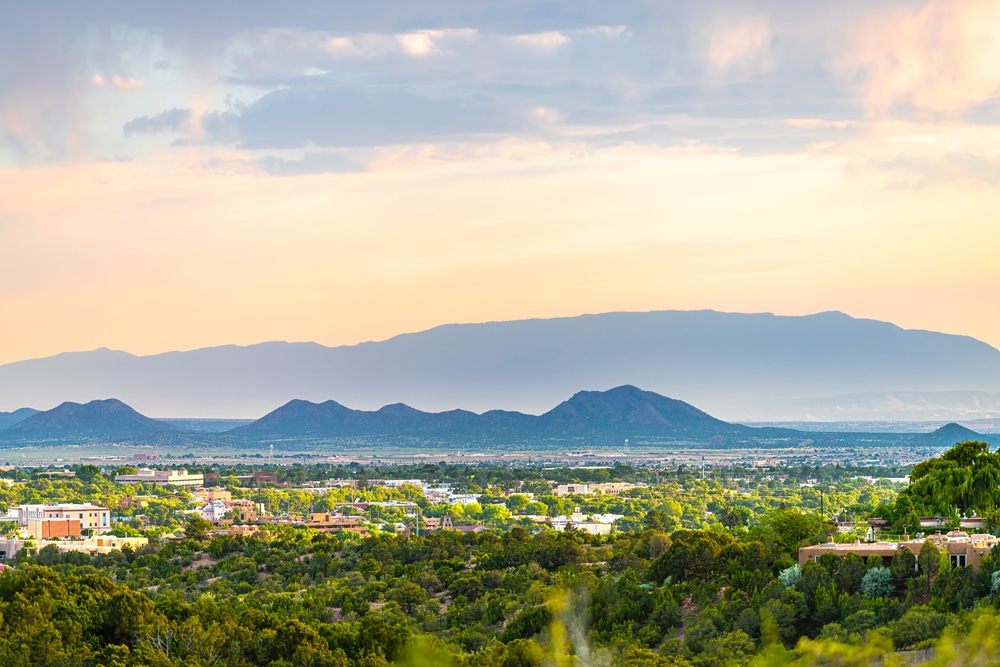 New Mexico is a beautiful state, and horseback riding near Santa Fe is a particularly lovely way to explore the area. There are many local, family-owned companies that offer lessons, tours and desert excursions. The weather in Northern New Mexico during Spring is temperate and warm; it's the perfect climate for outdoor activities. Strap on your cowboy boots and saddle up for a Southwestern adventure like no other!
Our New Mexico Bed and Breakfast is just about a 35-minute scenic drive to downtown Santa Fe. On your stay with us, you'll feel close enough to the big city, while thoroughly enjoying the secluded desert oasis of our Inn in the village of Chimayo. While there's plenty to check out right here in our little town, such as the historic El Santuario de Chimayó chapel and charming shops and restaurants, Santa Fe shouldn't be missed.
The terrain of New Mexico is quintessential Wild West. From the desert plains to the mountain ranges, it's a treat for any nature lover. Horseback riding near Santa Fe is one of the best ways to take in the ancient splendor which has fascinated Western enthusiasts since people first laid eyes on its magnificent vistas. Luckily, when you stay with us at Casa Escondida, you can wake up to these views, book your room today!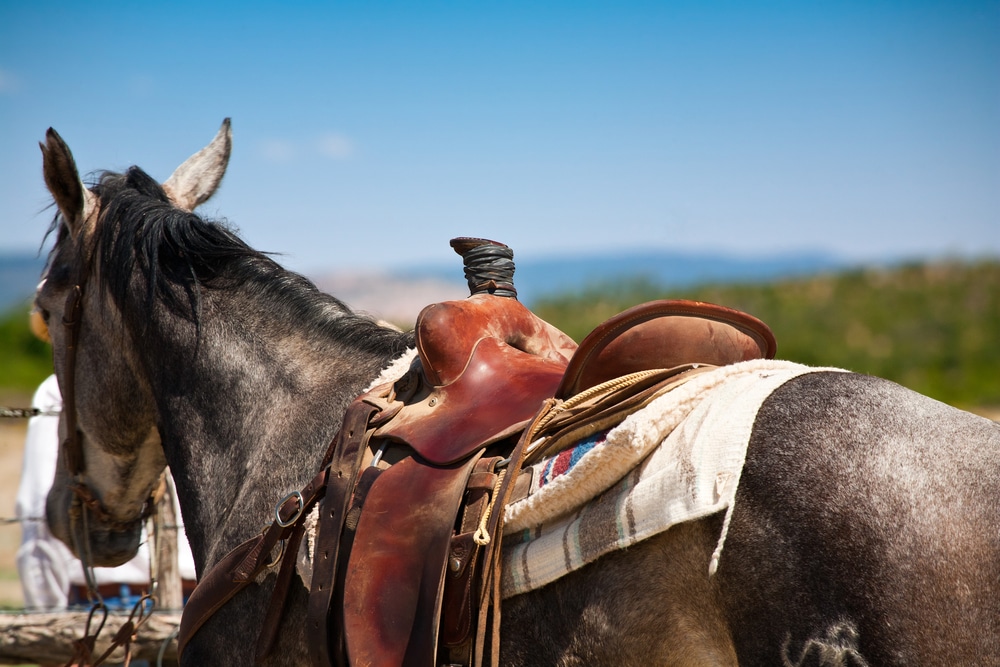 Four Great Ranches Offering Horseback Riding Near Santa Fe
Just imagine: the cool desert breeze at your back, stunning mountainous vistas before you and the sound of horses traversing the rocky trails with knowledgable guides leading the way. Horseback riding near Santa Fe is an experience that you will keep with you forever. Let the adventure begin!
Here's a list of 4 local companies to check out for horseback riding near Santa Fe:
Just a few reminders before you set out on your horseback riding excursion: jeans and close-toed shoes are recommended, always wear your helmet and make sure to pack water and snacks.
Our New Mexico Bed and Breakfast is the perfect place to make your home base as you adventure out into the wilderness near Santa Fe and beyond. We'll start your day with an impressive Southwest-inspired 3-course breakfast including sweet and savory options, hot coffee and fresh fruit. It will be just what to you need to fuel up for a day horseback riding near Santa Fe.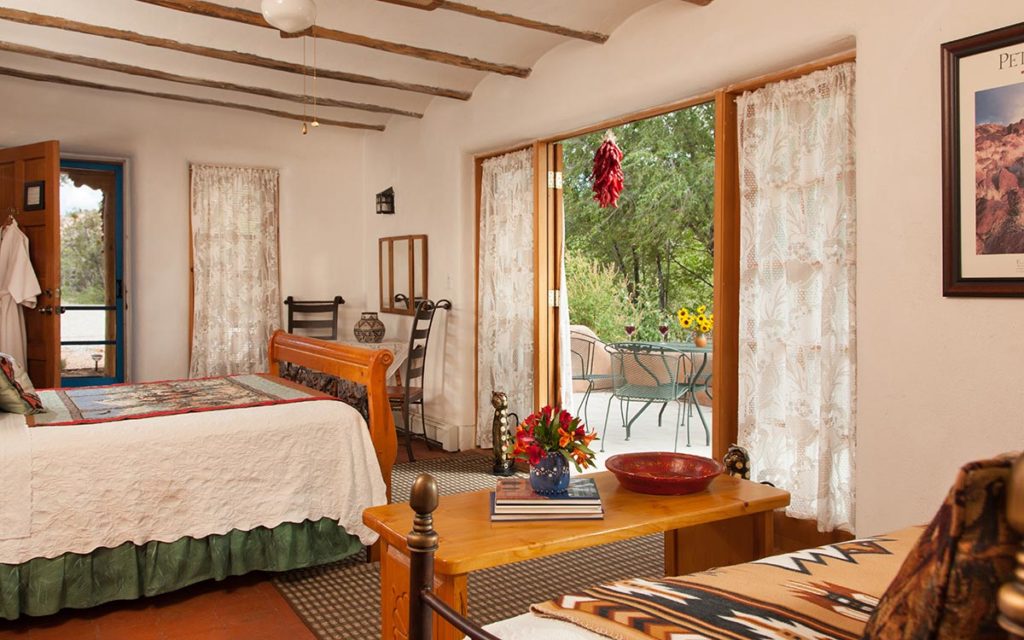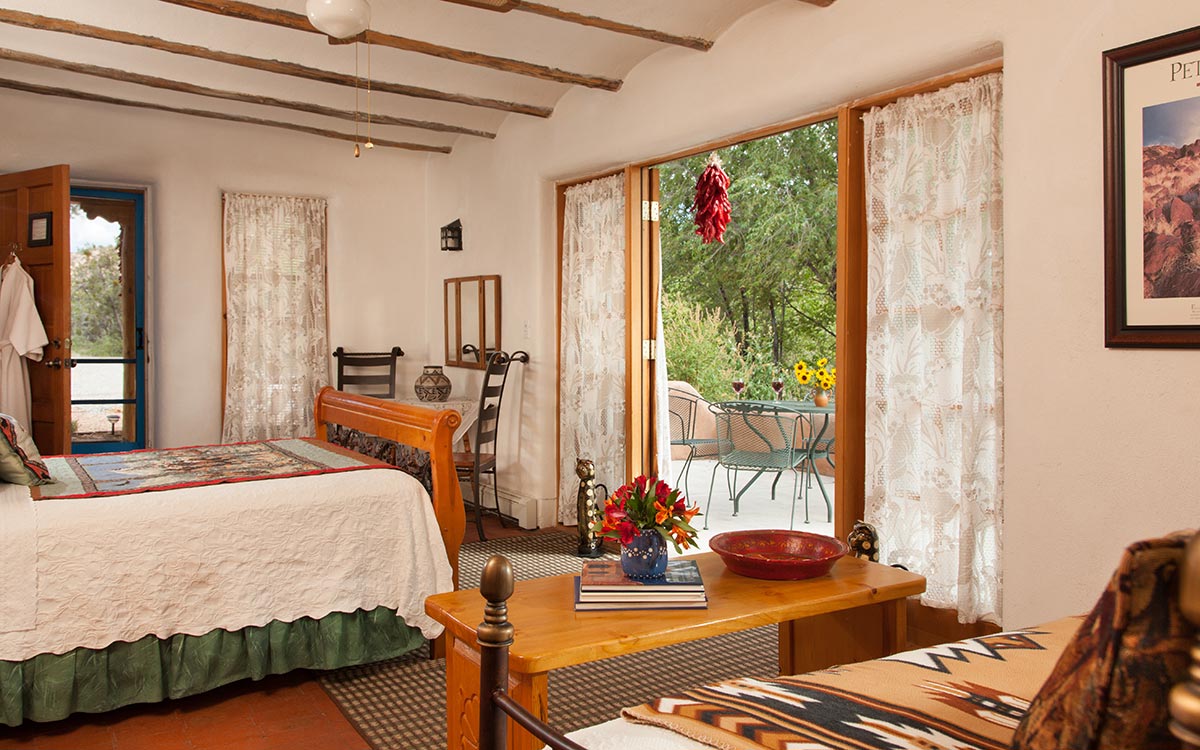 The Best Bed and Breakfast in All of Northern New Mexico
One of the greatest allures of our Northern New Mexico Bed and Breakfast is its secluded and private location. It's truly a hidden gem for the romantic and adventurous vacation of your dreams. Our nine guest rooms and suites are tastefully decorated in traditional New Mexican-style, many outfitted with Kiva fireplaces and stunning views of Chimayo. All have the comfort of home, while offering fantastic amenities and atmosphere.
For added luxury to your stay, we offer an array of special packages. The best option after a day of horseback riding near Santa Fe would be the Relaxation Package, which includes a 1-hour in-room massage and everything you need to transform your suite into a spa, from bubble bath to aromatherapy candles. After a long day on the trails, you'll deserve this special treatment. Be sure to check out our availbility and book your next vacation with us!