Though there are plenty of amazing places to eat in the nearby foodie-favorite of Santa Fe, Rancho de Chimayó is one of the best restaurants in New Mexico – and it's right here near our Northern New Mexico Bed and Breakfast. Rancho de Chimayó is a well-established restaurant with a huge reputation – a well-deserved one at that. It's reason enough to venture north from Santa Fe, but when you factor in the chance to visit the artisans of Chimayó and stay at our award-winning Bed and Breakfast, you have the makings of a perfect getaway.
Rancho de Chimayó is only a short 5-minute drive from our New Mexico Bed and Breakfast. When you're done, it will be time to enjoy the impressive night sky of New Mexico before retiring to your guest room for one of the best nights of sleep you'll have away from home. Our New Mexico Bed and Breakfast is on 6 acres, with awe-inspiring views of the Sangre de Cristo and Jemez Mountain ranges. We're conveniently located between Santa Fe and Taos, near the beautiful and storied Santuario de Chimayó, and surrounded by some of New Mexico's most inspiring beauty.
This summer is your opportunity to see just how memorable a getaway to Northern New Mexico can be. Book your room at our New Mexico Bed and Breakfast today!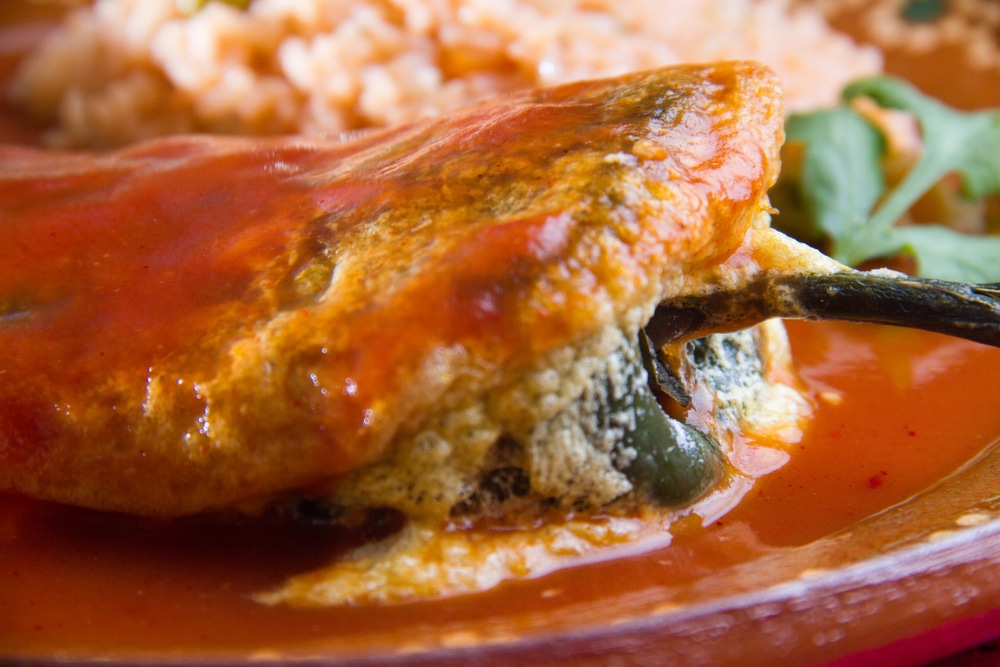 A Sensational Meal at Rancho de Chimayó
Rancho de Chimayó does a spectacular job of highlighting local New Mexican cuisine, one of which is the chile. Chimayó is actually very well known for its particular variety of red chile, and it's something regularly featured in the special heritage dishes served at Rancho de Chimayó.
In 2016, Rancho de Chimayó owner and chef Florence Jaramillo ("Mrs. J") earned a James Beard Award for her exquisite food, which was developed based on her personal and ancestral influences. The restaurant's signature dishes include spicy guacamole, hand-rolled tamales, blue corn enchiladas, Carne Adovada, and Chile Rellenos. We can also highly recommend their prickly pear margarita!
The building that houses Rancho de Chimayó is as charming as the food is delicious. The Rancho de Chimayó restaurant is housed in the family's ancestral home, which was lovingly restored when the restaurant was open in 1965 and was built in the traditional adobe style of New Mexico. When you step through the doors of this fantastic restaurant, it's like stepping back in time. The family has done a remarkable job of preserving their culture and family history while creating an enchanting atmosphere with cozy fireplaces for winter and a beautiful terraced patio for warmer-weather dining.
We love to send our guests here not just for the delicious meal we know you'll enjoy but also for the unbeatable ambiance and service. You may show up a stranger, but you will leave feeling like you shared a great meal with your family. Before you leave for the evening, don't miss your chance to stop into their gift shop and art gallery. The Rancho Chimayo Collection Galeria is a truly stunning collection of Native American culture. Their collection dates back to the 1800s and offers collectors and admirers authentic and one-of-a-kind pieces.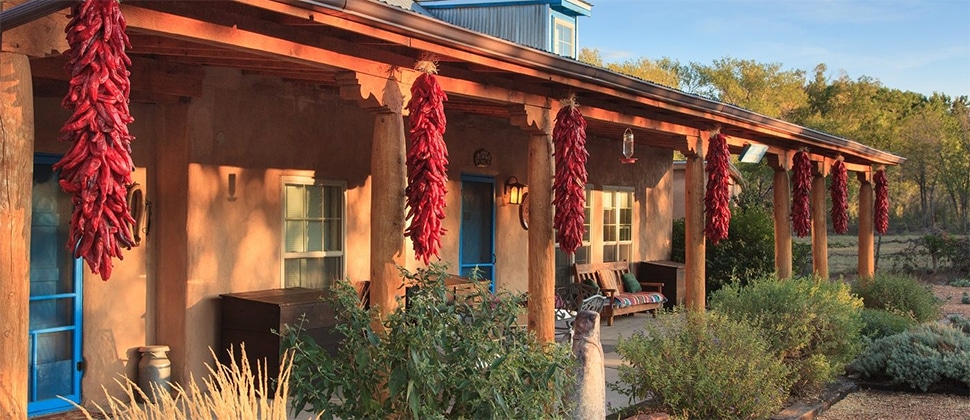 The Best Place to Stay in Northern New Mexico
Though having lodging nearby to the Rancho de Chimayó restaurant is undoubtedly one reason to consider staying with us, it's not the only reason. As we mentioned, our nine-room Bed and Breakfast is situated on six private acres, offering you a secluded place to relax, unwind, and admire your stunning natural surroundings. We offer you anything but a typical hotel stay, too.
Each of our guest rooms is appointed with traditional New Mexico decor, with spacious living areas, queen beds, private bathrooms, and more. In the morning, you'll wake to a delicious breakfast made fresh for you right here at the Inn. We serve a bountiful three-course breakfast with Southwest-inspired recipes. Talk about the perfect way to fuel up for your adventures ahead!
Our location is also perfect for exploring all of Northern New Mexico, including Santa Fe and Taos. Spend your days hiking in the beautiful mountains around us and learning more about traditional New Mexican art and culture, including one of our nearby favorites, Theresa's art Gallery. It's a charming gallery featuring handmade New Mexican Folk Art. Alternatively, visit top historical attractions in the area, browse Santa Fe's incredible markets, museums, and galleries, and let the enchanting lands of Northern New Mexico charm you.
If you're ready to enjoy the best getaway in Northern New Mexico, it's time to book your room and get cozy at Casa Escondida Bed and Breakfast in the quaint town of Chimayó.