Santa Fe's culture is loaded with various art forms. From tangible art like paintings and sculptures to intangible forms like music, Santa Fe has it all. A lot of the arts in our area translate a message about or represent something from Native American life. However, there are also galleries and museums that are dedicated to western and contemporary art. One of the best ways to immerse yourself in our rich arts culture to attend 
Santa Fe, NM, concerts
. While our area hosts large, headliner concerts, Santa Fe also boats culturally immersive concerts. Plan your trip to our area around one of these unique shows! Request a copy of our free 
Vacation Guide
 for even more local recommendations on how to spend your New Mexico getaway.
3 of the Best Music Halls for Santa Fe, NM, Concerts
Music on the Hill
St. John's College hosts 
Music on the Hill
 annually each summer. This summer concert series features local and national musicians every Wednesday evening throughout the summer from 6:00 p.m. to 8:00 p.m. Attendees can watch and listen to these bands perform from the St. John's athletic field. Music on the Hill also features local restaurant benefits. Guests can enjoy good eats to enhance their concert experience! If you don't happen to attend Music on the Hill during a restaurant benefit, stop for an early dinner at the 
Rancho de Chimayo
 before the concert! This authentic Mexican restaurant is one of our favorites and is located near our bed and breakfast.
Santa Fe Opera
The 
Santa Fe Opera House
 is an artist wonder from the inside out. The opera house's architecture boasts unique curvature and features practical amenities rain baffles that double as decor pieces. This open-air theatre hosts traditional and contemporary shows for locals and visitors alike. Be sure to check out the 
Santa Fe Opera's calendar
 for a list of shows happening during your getaway! Once you've chosen your show, you 
buy your tickets
 through their site!
The Lensic Performing Arts Center
The Lensic Performing Arts Center
 is a nonprofit organization that hosts various performing arts events. These events include everything from dance and music to lectures and spoken word poetry. The Lensic also offers 
education programs
 and 
community programs
 to educate, inform, and involve the community in Santa Fe's performing arts. Browse the 
Lensic's events
 and 
purchase a ticket
 to a show during your New Mexico getaway!
Continue the Show at Casa Escondida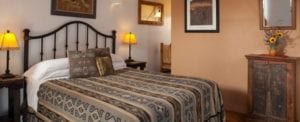 Our bed and breakfast in Chimayo, NM, is tucked away in the desert. Enjoy a relaxing getaway to our area to escape everyday life. Carve out a couple of days in your itinerary to explore Santa Fe. this is the largest city near us and is a great day trip destination! Make a day our of attending one of the above Santa Fe, NM, concerts. Stay in our 
Uno Garden Room
 when you visit Casa Escondida. This cozy room has pasture and foothill views from the rear, a queen-size bed, private bathroom, and covered front porch. This room is detached from the main house for optimal privacy, while still being conveniently located just steps away. Stroll over to the main house to indulge in our 
daily breakfast
. Browse all of our 
cozy rooms
 adorned with western flair and 
reserve yours
 today!
Related Posts: