The idea of having a "relaxing getaway" is variable. Some enjoy the spa, others fantastic dining, and some enjoy the great outdoors! New Mexico is one of the best state's for outdoor recreation, sightseeing, and is even one of the nation's top hiking destinations! With so many awe-inspiring and challenging Northern New Mexico hiking trips to choose from, you'll definitely need an extended getaway to explore them all. Just to get you started, here are some of the most popular day hikes you'll want to add to your Northern New Mexico itinerary. Discover more outdoor activities and so much more with our free Vacation Guide! Planning your high desert vacation is just one click away.
Claim Your New Mexico Vacation Guide
Northern New Mexico Hiking Trips Near Chimayo
We want to start by emphasizing by safety always comes first! Whether you're just wanting to gaze at our area's natural landscape or push yourself to the limit, nourishing and listening to your body is of utmost importance to have an enjoyable hiking trip in New Mexico. No matter your skill level, be sure to bring plenty of water and stay hydrated. Packing snacks and sunscreen is also best practice during elevation gain.
1. Santa Fe, New Mexico Hiking
The capital of New Mexico provides a surplus of incredible hiking opportunities that boast massive elevation gain and some of the highest peals!. Whether you're searching for a quick hiking excursion or a full day hike through the New Mexico wilderness, you'll find the perfect trail just outside of the hustle and bustle of Santa Fe. Here are just some of our favorite Santa Fe hiking trails that we're sure you'll enjoy just as much as we do!
Dale Ball Trails: Consisting of nearly 23 miles of hiking and mountain biking trails, you'll embark on an unforgettable trek through some of Santa Fe's most striking regions.  There are also several routes you can choose from depending on your level of experience and endurance.
Aspen Vista Trail: Known for its wide variety of natural features, the Aspen Vista Trail in Santa Fe is a lightly-trafficked route through Hyde Memorial State Park. Many explorers flock to this trail for an easy adventure enhanced with views of wildflower fields, rivers, waterfalls, and a lake.
Chamisa Trail: Surrounded by beautiful aspen vistas, the Chamisa Trail in Santa Fe is a favorite for locals and visitors alike. The best months to embark down the trail are April through October when the weather is typically warm and beautiful. In the fall, Chamisa is also the ideal spot for viewing the area's exquisite autumn colors.
2. Jemez Springs, New Mexico Hiking
Located approximately an hour and a half from our Chimayo bed and breakfast, Jemez Springs is the ideal day-trip destination for a Northern New Mexico hiking trip. Many of the trails in Jemez Springs reward those who complete them with some of the state's most relaxing natural hot springs. After embarking down the network of trails, take a rejuvenating dip in the springs and let all of your worries melt away. It's worth it, we promise.
3. Bandelier National Monument Hiking
Thousands of years ago, the Pueblo Indians carved their homes into New Mexico's cliffsides. More than 1,500 Indians lived in these dwellings, and they still hold traces of ancient life even today. Bandelier National Monument is a 33,000-acre park with evidence of life dating back almost 11,000 years. There are over 70 miles of trails within the park that accommodate beginner, intermediate, and expert hikers. Browse their hiking guide to find the trails that are perfect for you!
Rest Your Feet at Casa Escondida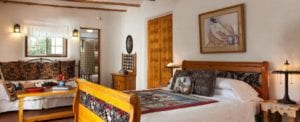 Come back to our Chimayo, NM, bed and breakfast after embarking on a Northern New Mexico hiking trip. Whether you're planning your getaway around several day hikes, or want to experience all of our area's diverse things to do, Chimayo is the perfect spot for you! Our quiet town is strategically nestled about a 40-minute drive from Santa Fe to allow guests the freedom to take on the city or relax at our New Mexico sanctuary.
If you like to take Fido with you everywhere you go, check out one of our pet-friendly guest rooms! He'll love to take on the mountain ranges with you, but be sure to check the parks' respective visitors centers first. Casa Escondida's Sun Room is named for the sun that pours in through the windows. This room features a private entrance off of the main house, queen-size bed, convertible day bed, a small workspace, and a private patio on the ground level.
Browse all of authentic Northern New Mexico lodging options and reserve your favorite room today!