What're your plans this July? Join us in our great state for the New Mexico Jazz Festival! For 14 years, this festival has graced Northern New Mexico with talented jazz artists. Even if jazz music isn't your favorite genre, these concerts can be a time of discovery as you admire the passion of the artists and how their craft brings our community and its visitors together as one! Among all of our area's arts and culture events, this festival is one of the most popular. It's also one of the most accessible as it takes place over 17 days. Discover more things to do on your New Mexico getaway when you request a copy of our free Vacation Guide! Start planning right here.
17 Days of Fun at the New Mexico Jazz Festival
About the Festival
This Northern New Mexico Jazz Festival is just over a two-week-long event that's hosted by the Lensic Performing Arts Center and the Outpost Performance Space. These two venues are in Santa Fe and Albuquerque, respectively. This festival is a collaborative project that aims to give Northern New Mexico residents and visitors alike easy access to world-renowned jazz artists. Over this 17-day period, attendees can choose performances from a variety of jazz masters like Cha Wa.
Every July for 14 years, this New Mexico jazz workshop has made musical entertainment and culture easily accessible. However, this annual festival is just the tip of the arts and culture iceberg in Northern New Mexico. The Santa Fe Opera House is another popular musical attraction. If you can't make it for the jazz festival in July, be sure to see other fantastic live music while you're here!
Navigate the Schedule
With performances almost every day, it can be hard to decide which you want to see! Plan a trip around seeing your artists as they take the stage during this festival, or take a chance on the festival most anticipated acts like New Mexico Jazz Latino Orchestra featuring Frankie Vazquez or the John Lewis Portrait Dedication.
No matter what you decide to see, be sure to browse the Outpost and Lensic Center schedules carefully! Both Santa Fe and Albuquerque are within driving distance from Chimayo! Take a fun day trip to each of these happening Northern New Mexico cities when you visit us this July.
Jazz Up Your Getaway When You Stay at Casa Escondida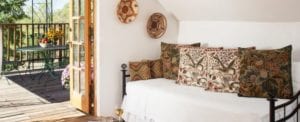 Chimayo is within driving distance of both the New Mexico Jazz Festival hubs, Santa Fe and Albuquerque. Stay near all of the popular events in New Mexico while also being able to retreat to your quiet oasis in the desert when you stay at Casa Escondida. All of our accommodations boast authentic New Mexico decor and hospitality. Experience more authentic New Mexico when you enhance your getaway with one of our packages!
Book a stay in our Vista Room and enjoy a queen-size bed, convertible day bed, private bathroom with bathtub and shower, hardwood floors, and french doors that lead out onto your private deck with a sitting area. Perfect for enjoying a cup of coffee in the morning while taking in views of the beautiful Sangre de Cristo Mountains. Browse all of our comfortable accommodations and reserve your favorite room today!